Frugalware Linux Newsletter - Issue 76
…to inform…to educate…to entertain
  #!/usr/bin/env outside

  # It's great, trust me!
Sighted in a user's forum signature
Welcome
Welcome to another issue of the Frugalware Linux community's newsletter, which highlights the latest events and activities of the Frugalware Linux community.
Features of this issue include:
Frugalware release 1.4 Nexon has arrived!
Frugalware website has had a facelift
You can now add your comments to each newsletter issue
Get fit with Frugalware
Focus on Packages - tig and Shutter
Events etc

Here's a selection of recent events and other items that you might find interesting:
Frugalware release 1.4 Nexon has arrived!
On 13 February 2011, VMiklos announced the release of Frugalware Linux version 1.4, code- name Nexon, with many exciting improvements. The number of developers and contributors has been increasing, with an amazing total of 31 for this release, the largest ever number for any Frugalware release! It's always great to have new people joining, bringing their ideas and enthusiasm. Judging by this, it appears that Frugalware Linux will have a bright future.
Frugalware website has had a facelift
Developer Devil505 and others have made some fantastic improvements to the appearance of the Frugalware web site with:
layout changes;

a new set of icons;

a cool-looking popup display for screenshots.
Icons are used with news and newsletter items to visually identify their topics. The new icons were chosen from the Faenza set which is currently very popular with many Linux distributions, including ours. The layout changes, together with the new icons give the site a fresh, modern look. I added icons to each section of the newsletter a few months ago, but was not entirely happy with their position. Unfortunately I didn't know enough to fix the situation. I'm very happy, then, that Devil505 has not only changed the icons but moved them to the right-hand side of the page. This change, together with the new icons, is a big improvement to the newsletter's appearance.
The appearance of screenshots on the web site has been improved so that when you click on a screenshot, the full-size image will appear in a pop-up window, overlaid on the content of the web page. The advantage of this approach is that you can see the image in context, which makes for a better understanding.
Home page has been translated into Spanish and Italian
Thanks mainly to community member DarkNekros and developer Melko, the Frugalware home page has been translated into Spanish and Italian. We are keen to make Frugalware available to as many people as possible in their native language. These translations are a step toward that goal so thanks go to them for their help. A series of small flag icons appears on the home page as a visual prompt of which languages the home page has been translated. If any part of Frugalware is not yet translated into your native language and you're able to help do that, please do. To get started, send an email to the Frugalware developers' mailing list.
Fwife gets better with age (and attention from Elentir :) )
Fwife is the Frugalware GUI installer which, from Frugalware release 1.4 "Nexon", is included together with the ncurses installer on the ISOs. There have been two main changes to Fwife: mount point improvements and a standalone installation option. In the previous version of Fwife the configuration of mount points was not intuitive but this has been made much clearer. It's been amazing to see Fwife develop from an idea proposed on the mailing list to being a part of the official release. And this has been the work of just one person - Elentir - with the support of the development team, of course. Congratulations.
Let's Disqus it, OK?
In case you haven't already noticed, you can now make comments about each newsletter issue at the bottom of the page. This allows us two-way communication with our users and hopefully better understanding between us. Now that comments are open, please do tell us what you think.
The idea of making comments possible came from the development team. Some of their blogs use a service provided by Disqus, which allows you to easily add a comments feature to otherwise static web pages. Since the Frugalware web site is custom PHP, not a CMS, using Disqus chosen as the best way of achieving what we wanted. All comments are collected centrally, so it's easier to review and, if necessary, moderate feedback. With this feedback we can tweak and tune the newsletter to keep you better informed and entertained.
New Packages

This section of the newsletter features packages which have been added since the previous issue.
| Package | Description | Maintainer |
| --- | --- | --- |
| thunar-dropbox-0.2.0 | Plugin for thunar that adds context-menu items for dropbox. | Devil505 |
| cnetworkmanager-0.21.1 | Command line interface for networkmanager | Melko |
| geany-plugins-0.19 | The combined plugins release for Geany | Melko |
| bpython-0.9.7.1 | A fancy interface to Python interpreter for Unix-like systems. | James Buren |
| libreoffice-3.3.0.4 | LibreOffice Productivity Suite, a fork of OpenOffice.org. | VMiklos |
| jupiter-support-eee-0.0.12 | EeePc scripts for jupiter | Melko |
Tips and Tricks

Disclaimer - Be aware that the hints & tips provided here have NOT been tested and so come with no warranty.
Multi-boot Frugalware and…Frugalware
When you think of booting multiple operating systems on the same hardware, you would usually be thinking of different operating systems. What about running the same operating system, Frugalware of course? Running two installations can be useful in situations where a fatal operating system error prevents you from using your computer. With another installation of Frugalware you could simply reboot to it and voila, you're productive again. While you could troubleshoot the problem, there are many situations where you simply couldn't afford the time required. If you were about to give a presentation you would (hopefully) be more worried about starting, not troubleshooting. Try this tip and one day it just might "rescue" you.
Get fit with Frugalware
It's well known that many geeks don't get as much exercise as they should. To encourage more activity and so have a healthier population, here are a few suggestions:
Remove cron
Cron is a tool which can schedule tasks to be run at specified days and time. Instead of using cron, write down on a piece of paper when tasks need to be run and enter the necessary commands at the scheduled time.
Don't use pacman-g2 -Su
Instead of having pacman-g2 check for and update all packages, check them manually. Use the command pacman-g2 -Q to get a list of installed packages. For every package installed, check if it's up to date with the command pacman-g2 -S <package_name>.
Use another text editor
Whatever text editor you normally use, switch to another one, preferably one which you have never used before. Make sure it's a really complex editor, like Emacs or vi. There's no excuse for switching from Mousepad to gedit, for example. As you struggle to find the right commands or key sequences, and your brain's temperature rises from cool to hot, you will use up a lot of energy.
These are just examples of what you can do to improve your overall fitness level. Once you get a little fitter you might like to take the next step and go for a walk outside, maybe even ride a bike. Soon it could be a new, fitter you who is sitting in front of your computer.
Disclaimer: The above advice is general advice only and results can't be guaranteed. Factors which may affect your results include: keystroke rate, choice of new text editor and alignment of the planets.
This section relies on your contributions! If you have some tips and tricks that you would like to be shown in the newsletter, please post them on the forums.
New Packages

tig
tig is a console application which allows you to browse git repositories. It has two modes: browse, which allows you to browse through the commits and see the associated diffs and pager, where tig takes input from stdin and applies colours to the output. When you first start Browse mode,
Browse mode is great because you can quickly navigate through commits and their associated diffs. It also allows you to quickly switch between different views where "views" match the view-* git options: view-diff, view tree etc. A basic searching option is useful when you need to find something specific.
Pager mode is quite simple because it takes input from stdin and applies colours to the various fields: commit reference, author, date. You simply type your git command and pipe it to tig and you're then in pager mode, able to browse the command's output in colour.
The great thing about tig is that it doesn't try to hide git from you, or limit what you can do. It uses git's own commands and accepts all git-log and git-diff options as well as some tig-specific options. I would strongly recommend tig to anyone who works with git repositories.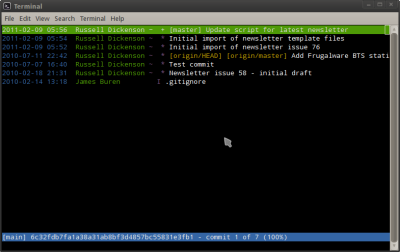 Shutter
To be honest, when I first heard of Shutter, which on its About page is described as a "Featureful Screenshot Tool" I thought "Why? We already have screenshot tools!" Surely you display a window and take a screenshot of either a window or the entire desktop, end of story. In fact this is where the life of a screenshot usually starts, because it's often then resized, cropped, converted to another format, then uploaded to a site so that others can see it. With Shutter you can all this, and more, easily and without needing to use other applications. If you need to capture and edit a series of screenshots you easily do this because they're all loaded in a tabbed interface. Also available is a great range of plugins which allows you to enhance the appearance of the screenshot, from making it look like a Polaroid, to applying a 3D reflection. A feature which I don't recall seeing in other tools is the ability to capture a screenshot of an application's menu or tooltip. If you do any work with screenshots then definitely try Shutter because it may save you a lot of effort.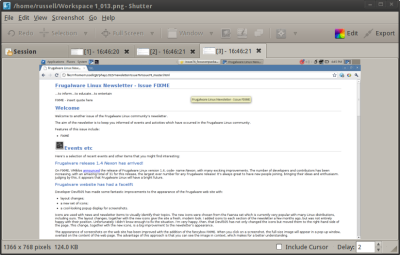 Bug Fixes
The following table gives you a overview of activity on bugs and feature requests as at 27 February 2011. Click on the link in each cell for details of the relevant bug reports or feature requests.
| Activity | Bugs | Feature Requests |
| --- | --- | --- |
| Open | 151 | 190 |
| Opened since the previous newsletter | 80 | 32 |
| Closed since the previous newsletter | 23 | 23 |
Security announcements
Remember - According to the normal support arrangements for Frugalware, the release of 1.4 ("Nexon") means that no further security or bug fixes will be released for Frugalware 1.3 ("Haven") or earlier.
Here is a list of security issues which have been discovered and fixed in the 1.4 release since the previous newsletter.
FSA
Package
FSA Description
Upgrade To
FSA712
opera
Two weaknesses and some vulnerabilities have been reported in Opera, which can be exploited by malicious people to bypass certain security restrictions, disclose potentially sensitive information, and compromise a user's system
opera-11.01-1haven1
FSA711
drupal6-mollom
A security issue has been reported in the Mollom module for Drupal, which may lead to exposure of sensitive information
drupal6-mollom-6.x_1.14-1haven1
FSA710
wireshark
Multiple vulnerabilities have been reported in Wireshark, which can be exploited by malicious people to cause a DoS (Denial of Service) and potentially compromise a vulnerable system
wireshark-1.4.3-1haven1
FSA709
horde-webmail
A vulnerability has been reported in various Horde products, which can be exploited by malicious people to conduct script insertion attacks
horde-webmail-1.2.9-1haven1
FSA708
wordpress
A vulnerability has been reported in WordPress, which can be exploited by malicious users to conduct script insertion attacks
wordpress-3.0.4-1haven1
FSA707
drupal6-image
See FSA706.
drupal6-image-6.x_1.1-1haven1
FSA706
drupal-image
A vulnerability has been reported in the Image module for Drupal, which can be exploited by malicious users to conduct script insertion attacks
drupal-image-5.x_2.0-1haven1
FSA705
drupal6-views
Multiple vulnerabilities have been reported in the Views module for Drupal, which can be exploited by malicious people to conduct cross-site scripting attacks
drupal6-views-6.x_2.12-1haven1
FSA704
mantis
Gjoko Krstic has reported some vulnerabilities in MantisBT, which can be exploited by malicious people to conduct cross-site scripting attacks and disclose sensitive information
mantis-1.2.4-1haven1
FSA703
wordpress
A security issue has been reported in WordPress, which can be exploited by malicious users to bypass certain security restrictions
wordpress-3.0.3-1haven1
About the newsletter
Author
The Frugalware newsletter is written and edited by Russell Dickenson (AKA phayz). Credit for the Frugalware distribution goes to the development team.
Translations
Depending on people's workload, the newsletter may be translated into French and Danish by their respective communities as soon as possible. Please be patient as it can take some time to translate each issue. Thanks to all those involved in providing and hosting these translations.
Release
To allow time for review and corrections, each newsletter is written ahead of its release date. Therefore it may not mention events which occurred in the few days before its release - e.g. security fixes. To be sure that you've got the very latest information on these topics, go to the appropriate page of the Frugalware web site.
Feedback
If you have feedback about the Frugalware newsletter - whether good or bad - please provide it in the comments section below, or the forums. Your feedback is valuable because we want the newsletter to meet the needs of Frugalware's users.
blog comments powered by

Disqus